L'étude Global Fund Manager Survey souligne l'intérêt croissant des gestionnaires de fonds à l'égard du Bitcoin, préféré aux actifs traditionnels que sont l'or et les obligations.
La position du PDG de CoinShares se confirme. Pour Danny Masters, tout gestionnaire de portefeuille qui se respecte devrait impérativement détenir du Bitcoin. C'est également l'avis d'un nombre croissant de ces professionnels de la finance.
C'est en tout un cas un des enseignements de la The Global Fund Manager Survey de Bank of America Merrill Lynch. Parmi les responsables de fonds, pesant 534 milliards de dollars d'actifs, Bitcoin se classe désormais 3e en termes d'investissement.
Bitcoin, un investissement de long terme
Pour 15% des répondants, la cryptomonnaie se place 3e parmi les marchés considérés comme les plus actifs. Bitcoin reste cependant loin derrière les actions technologiques (52%) et les positions courtes en dollars (18%).
En revanche, il fait mieux que des placements historiques que sont l'or et les obligations. D'après JPMorgan Chase, les investisseurs pourraient justement réallouer de l'argent au profit du Bitcoin, ce au détriment de l'or.
Les gestionnaires de fonds ne boudent plus Bitcoin. Et cette tendance s'accentue rapidement. Ainsi, 15% des répondants détiennent des positions longues sur le crypto-actif. Un mois plus tôt, cette part n'était que de 5%.
La crypto pour se protéger de l'inflation, menace n°1
Plusieurs facteurs expliqueraient cette rupture parmi les décisions d'investissement de ces professionnels. Les deux principales sont la crise sanitaire et l'inflation, qui enregistre à elle seule un bond de 25% au rang des préoccupations.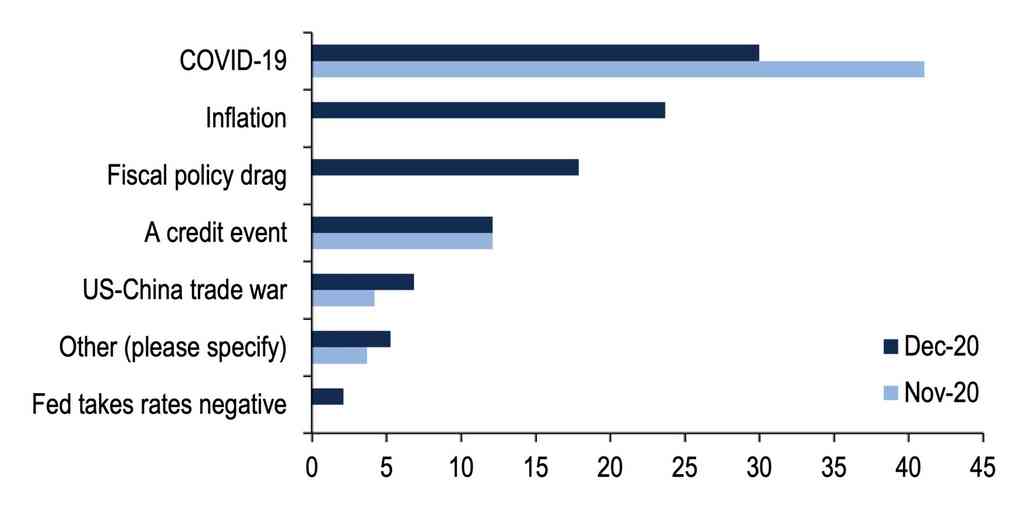 Nombre d'investisseurs se tournent justement vers Bitcoin pour se protéger contre l'inflation. Pour le milliardaire Paul Tudor Jones, la cryptomonnaie constitue même le meilleur placement face à l'inflation.
C'est également le moteur des décisions d'investissement de MicroStrategy. Dès cet été, l'éditeur arguait de la dépréciation à long terme des monnaies fiat pour justifier l'achat de 250 millions de dollars de Bitcoin.
L'apparition de Bitcoin dans l'étude mensuelle de Bank of America n'est pas une première néanmoins. Les signaux sont donc à relativiser. En décembre 2017, mois de son plus haut historique, 32% des gestionnaires qualifiaient Bitcoin de marché le plus encombré.
Credit Source link